MidMount™ PowerVac™ Collection Systems
A night-and-day difference from the ordinary.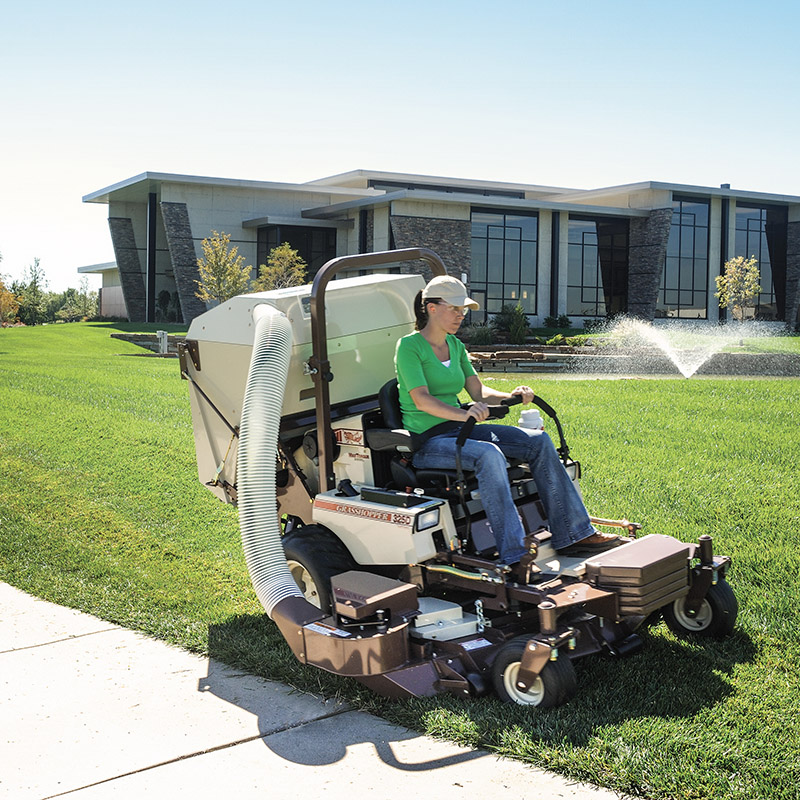 With a PowerVac™ Collection System for your Grasshopper zero-turn mower, you're getting the most powerful, maneuverable and efficient leaf-collecting, grass-catching and debris-removing equipment available for turf. Built on more than 50 years of airflow research, PowerVac™ Collection Systems deliver a professional, finished look every time you mow.
Watch the PowerVac™ Collection System in action
Every PowerVac™ features a rear-mounted collector for zero-turn maneuverability and a deck-driven vacuum that create a professional, finished look every time. Make a clean sweep through virtually any lawn debris, removing wet grass and high-moisture leaves, pine straw, dethatching debris, small sticks, seed pods and acorns, paper, litter and tough weeds. Simply adjust your mowing speed to your conditions for one-pass perfection every time.
The force of the cutting blades discharges clippings and debris directly into the trash-ingesting steel impeller, which reduces and compacts debris for clog-free performance, even in adverse conditions.
Grasshopper's exclusive Quik-D-Tatch® Vac system allows quick conversion to side discharge or Down Discharge™ mulching in seconds without tools, and can be reinstalled just as easily, making PowerVac™ perfect for commercial operators servicing multiple accounts.
MidMount™ PowerVac™ Collection Systems
Fabric Mesh Bags
Metal Hoppers

8F/8HT

12F/12HT

16/M1

100V Series
200V-G4 Series
300V Series
200, 300, 400 Series
Explore the range of collector sizes and configurations available for your MidMount™ PowerVac™ collection system.