California Proposition 65 Warning Information
Changes to California's Proposition 65 ("Prop 65") regulations effective August 30, 2018 regarding all equipment manufactured; and parts distributed by The Grasshopper Company ("Grasshopper") throughout California and surrounding states.
Prop 65 is part of California's Safe Drinking Water and Toxic Enforcement Act of 1986. The intent of Prop 65 is to warn Californians about products or environments that may result in exposure to chemicals that can cause cancer, birth defects, or other reproductive harm. For more information, see www.P65Warnings.ca.gov.
To date, Grasshopper has complied with Prop 65 requirements by use of product labeling and warnings on product packaging and in the Operator's Manuals & Parts List.
Under the new regulations, all existing inventory along with products produced on or after August 30, 2018 and sold within or into California must include Prop 65 warnings to consumers prior to the retail sale of the product.
Grasshopper FrontMount Tractors and MidMount Machines
Decal (shown below) on FrontMount tractors and MidMount machines, along with a similar warning in the Operator's Manual & Parts List.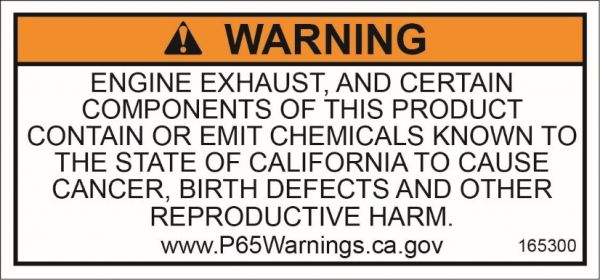 Grasshopper Implements: (e.g. AERA-vator, Snowthrowers, etc.)
Decal (shown below) on Grasshopper Implements without an engine or battery along with a similar warning in the Operator's Manual & Parts List.

Grasshopper Service Parts and Accessories only: (e.g. Light Kits, Hydraulic lift kits, etc.)
For all other consumer products retailed in or into California – such as replacement parts, accessories and chemicals.
Sample Prop 65 consumer product warning label for Service Parts and Accessories.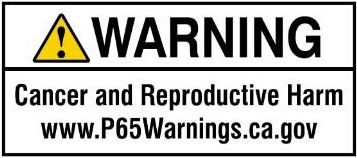 Access more information at the official website: www.P65Warnings.ca.gov