Why I'm Thankful For My Grasshopper
Posted on:Nov 10, 2020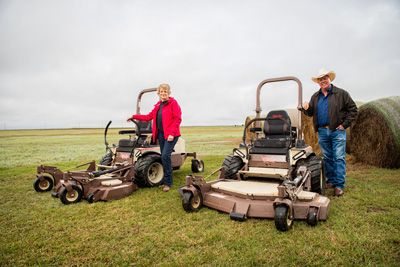 The season of thanks is upon us. To help celebrate, we asked a few of our customers to share their favorite thing about Grasshopper mowers. Here's what they had to say:
Cathey Daughtrey, Daughtrey Lawn Maintenance
"A Grasshopper is just much easier to handle. You're not exhausted by the end of the day. It's a much smoother ride."
For the past 30 years, Cathey Daughtrey and her husband Freddy have relied on the comfort and quality of Grasshopper to help them tackle long hours and large properties. The Daughtreys know that every property they cut is a reflection of them and their lawn care business. That's why they choose Grasshopper—the only mower that will keep them comfortable (and productive) all day long.
Greg Crawford
"We love taking care of our yard and we take great pride in how it looks when it's finished…you're not going to get a smoother cut than you are with a Grasshopper. I've had the competitors and I've had uneven cuts. But with that out-front deck, the Grasshopper literally floats on top of the grass. I've never seen a cleaner finish."
From fields to front lawns, Grasshopper mowers are built with the durability and versatility to mow everything, which is perfect for someone like Greg Crawford whose property is everything. With his FrontMount™ Grasshopper and PowerVac™ Collection System, Greg has a machine that will deliver the clean finish and versatility he demands—time and time again.
Kaleb Metcalf, Metcalf Land & Lawn
"We're in a lot of environments where people talk about how rough it is, but it doesn't seem so bad to us. Our Grasshoppers reduce vibrations and have the seat isolated—they make mowing just a more pleasant experience."
When Kaleb Metcalf was searching for a fleet of mowers to help grow his thriving small lawn care business, he knew he needed machines with a rugged build and unmatched comfort. With an iso-mounted premier suspension seat and shock-absorbing footrests, Kaleb's FrontMount™ Grasshoppers banish vibrations for a smooth, effortless ride—making hours of mowing feel like minutes.
Dean Goll
"I like the PowerFold deck. You can lift it up and clean your deck out —and I can change my blades in approximately five minutes. I don't know of another mower out there that's got the features, durability, and ride of a Grasshopper. Nothing has ever stopped that mower."
With two properties and lots of acreage, Dean Goll counts on his Grasshopper to get the job done. Dean needs a machine that is durable yet easy to maintain. With its PowerFold® deck, low-maintenance design, and solid, all-steel construction, Goll's Grasshopper keeps him mowing through thick and thin.
At Grasshopper, we're thankful for each and every one of our customers. We want to take a moment to thank you for your continued support and loyalty. We promise to keep working hard, delivering the best mowers—and service—we possibly can. Happy Thanksgiving!