The 12 Days of Christmas: Lawn Lovers Edition
Posted on:Nov 23, 2020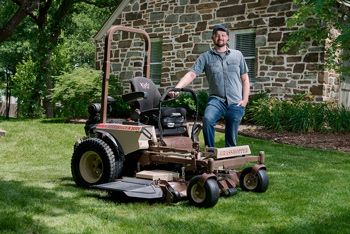 It's that time of the year once again! The Christmas lights—and songs—have arrived in full force and with them comes the stress of finding the perfect holiday gift. If you have a lawn lover on the top of your list, however, don't sweat—we've got you covered. Here are almost a dozen different gifts that'll be perfect for the lawn enthusiast in your life:
Outdoor Hammock
Want to reward your hard worker with some well-earned R & R? This outdoor hammock will bring that island vacation right to their backyard. Durable and built for the patio, a hammock like this is the absolute ideal spot for your lawn enthusiast to kick back and admire their handy work.
Bluetooth® Speaker
For those who also love a little music in their life, a Bluetooth speaker like this one is a pitch-perfect gift idea. With a durable, waterproof design, this speaker is great for every occasion from barbeques to camping to plain ole backyard lounging.
Outdoor Dining Set
Turn your lawn into a place you'll never want to leave with an outdoor dining set. Perfect for entertaining or for escaping the stress of the day, an outdoor dining set will help transform your home into a homestead making your lawn an essential living space.
Gardening Starter Set
Is it time for your lawn lover to expand their horizons? This Gardening Starter Set is the perfect introduction to their new obsession. Fit with all the tools you'd need, including gloves, garden stakes, hand rakes and a tote organizer, you're guaranteed to have a green thumb on your hands in no time.
Patio String Lights
The perfect companion present to an outdoor dining set, these patio lights will bring the ideal amount of shine to any outdoor space. With a string that extends up to 25 feet and end-to-end connectivity, the applications for these lights are truly endless.
Yard Games
From Giant Jenga® to bag toss, yard games are a great potential gift for those who also love to have a little fun. Take your gift a step further and personalize your boards or Jenga set with your own custom design.
A Grasshopper FrontMount™ or MidMount™ mower
What's the best way to celebrate the holidays you ask? It's simple—with a brand-new Grasshopper. The only gift that truly keeps on giving, a Grasshopper Front- or MidMount mower will satisfy even the most die-hard of lawn enthusiasts. With a smooth ride and an even smoother finish, Santa's workshop wishes they could make a gift even half as good.
Grasshopper Implements
A Grasshopper mower may be the ultimate gift you could give your favorite lawn enthusiast. But, for a stocking stuffer that can't be topped look no further than one of these Grasshopper Implements. From the PowerVac™ Collection system to the DriftBuster™ snowthrower, we've got an attachment for every job and every season.
Show your favorite lawn enthusiast how much they mean to you with one of the perfect gift ideas above. And, come back soon for more lawn care tips and tricks. Happy Holidays!