New Year, New You, New Lawn
Posted on:Jan 17, 2020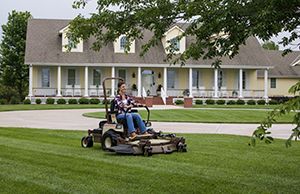 There's no better time for change than the start of a new year, much less a new decade. And, with a few lawn care goals for the upcoming year, you can take your cut to the next level in 2020. While everyone's lawn care resolutions may differ, these examples can offer a little inspiration to get you started.
Start Striping
Believe it or not, achieving that beautiful ballpark finish is actually pretty easy. All you need to do is pick your pattern and pick up a striping kit—which comes standard on all Grasshopper mowers. With a little practice and a keen eye on your cut, before you know it, you'll be wondering how you can take your talents to the big leagues.
Institute Your Own Fertilizing Program
A growin' lawn needs food. There's no way around it. Keeping your lawn well fertilized improves grass health and root strength, in turn preparing your lawn for the wear and tear of the changing seasons and other stressors. This year, finding the right fertilization program for your lawn will help keep your grass greener longer.
Find the Right Cutting Height
No matter the type, every grass has an optimal cutting height. However, finding that perfect cut can be difficult. Mow too short and you leave your lawn exposed to heat damage, drought and other pesky problems. Wait too long to cut and you're practically inviting in everything from mosquitoes to mice. Find your perfect cut here and keep your grass looking lush and healthy.
Make 2020 the year of your lawn with these simple yet impactful lawn care resolutions to help you level up your yard all year long.