For This Government Crew, Grasshopper Is More Than Just a Mower, It's Their Key to Success
Posted on:Aug 26, 2020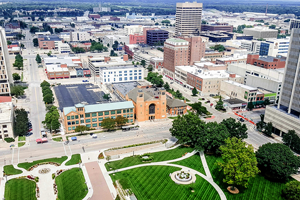 Climb the 296 steps it takes to reach the top of Kansas' State Capitol Building and you'll be rewarded. Sitting atop a 20-acre tract of lush greenery, the State Capitol Building offers a bird's-eye view of the beautiful grounds and an even more beautiful city. Maintaining that oasis of emerald amidst the urban landscape of downtown, however, is no easy feat.
"It is very important to us that the grounds match the majesty of the Capitol Building in every way," said Kris Lopez, Grounds Maintenance Manager.
Kris and his dedicated crew are in charge of the upkeep of this beautiful patch of turf. Rain or shine, snow or sleet, Kris and his crew patrol the grounds making sure they're pristine from top to bottom.
"We depend on our Grasshoppers to do almost everything," continued Lopez. "From the immaculate cut they deliver to a variety of grounds maintenance tasks, the Grasshoppers have never let us down."
Lopez and his crew don't just maintain the Capitol grounds. They entrust their Grasshoppers to preserve year-round perfection for the grounds of the Kansas Statehouse, Kansas Judicial Center, the Governor's Cedar Crest Mansion and its 50+ acres.
As Grounds Supervisor on Lopez's Crew, Nick Wurtz swears by the quality of his Grasshoppers.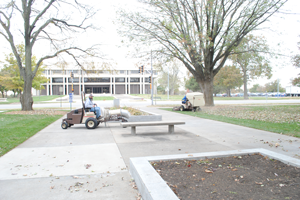 "We take a lot of pride in our work and the Grasshoppers make the grounds, and us, look good! They cut great and leave a nice groomed look."
Shouldering the brunt of Wurtz' workload, the 712DT and 725DT are the main machines used across the various properties. Wurtz swears by these two models due to their fuel economy and versatility.
"The 725D, with an eight-gallon tank, will go a full eight hours before filling up," said Wurtz. "I've seen gasoline mowers with a seven-gallon tank needing to refuel every two and a half to three hours. Because my crews aren't stopping two or more times a day to refuel, we're more efficient and productive."
A diesel-powered Grasshopper uses less than a gallon per hour, meaning more uptime for a more productive workday. And when you have as much land to manage as these guys, efficiency means everything.
Lopez's crew utilizes many Grasshopper implements so they can tackle more work with fewer machines.
The crew's fleet of Grasshoppers sits ready for a hard day's work.
If you want to maximize that uptime, you need to keep your machines running. That's the job of C.J. Bunce, Grounds Mechanic. Bunce favors his team's Grasshoppers for their powerful diesel engine.
"The diesel engine produces more efficient and usable power because of the torque, and the engine has more lugging ability and a better power curve," he said.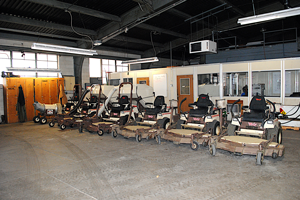 Bunce loves his FrontMount™ Grasshoppers for their unbeatable visibility, versatility, and exceptionally smooth ride. Ease of maintenance and customer support are also two big reasons why he keeps coming back to Grasshopper.
"The Grasshoppers are super easy to work on. I can make most repairs pretty quick, and Grasshopper's customer service is exceptional."
No matter which member of the crew you talk to, they'll tell you the same thing. For reliable performance day after day and year after year, Grasshopper is the way to go.