3 Mower Maintenance Steps You Should Never Forget
Posted on:Jul 30, 2020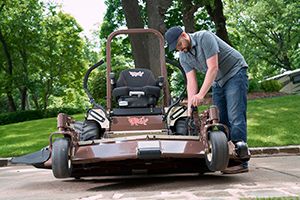 If you take pride in your cut, you take pride in your mower—and rightfully so. For us finish fanatics, a mower is more than just a machine. It's a reflection of the operator and insight into their quality of work. And, for a finish that can't be topped, you need to make sure you are keeping your mower in tip-top shape. Read on for a few maintenance tips you should always take before the start of a new mowing season.
Engine
What better place to begin then with the heart and soul of your mower? A healthy engine is a clean engine. Start your maintenance by changing the oil and replacing the oil filter. Next, check your air filter and remove any dirt or debris that may be present. If your engine is liquid-cooled be sure to address the radiator cooling fins, and if you have a spark-ignition engine, clean or replace your spark plugs. While Grasshopper's service-friendly engines will make maintenance a breeze, always consult your engine manual first.
Drive System
As we all know, with great power comes great responsibility. And, if you want to keep your mowing powers at their peak, you need to take care of your drive. Start by checking your hydraulic hoses for leaks and your cooling fans for mobility. Inspect nuts, bolts, and linkage for snug fits. And, if your mower calls for it, replace your hydro fluid. For the absolute best mower performance, use the specially formulated Grasshopper CoolTemp Hydro-Max fluid.
Mowing Deck
Next up, it's time to tackle the mowing deck. If you have a FrontMount™ with a PowerFold deck, get ready for the fastest maintenance experience of your life. Start by checking that all the baffles and shields are properly installed. Then, make sure your pulleys and idlers are clean and inspect your belts for wear and tear. If anything needs replacing, always use OEM-specified replacement parts. For the smoothest, sharpest cut take to a level surface and measure your deck's height and angle, consult your owner's manual for correct specifications and adjust your deck back to its optimal angle and height.
Mower maintenance is the key to a perfect cut. And, while there are many steps you need to take to ensure that your mower is firing on all cylinders, these are three of the most important.