Moridge Manufacturing accepts Family Business Award 2018
Posted on:Feb 22, 2018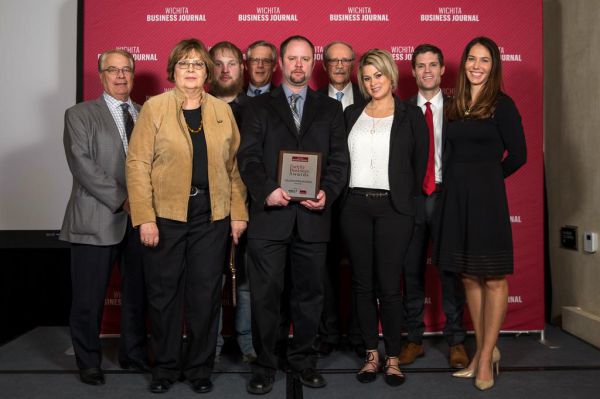 Moridge Manufacturing, the parent company of The Grasshopper Company, was presented with a 2018 Family Business Award from the Wichita Business Journal at a dinner/award ceremony in Wichita on Jan. 25, 2018.
Moridge has been family owned and operated for 60 years. Elbert Guyer, the company's founder, estabilished his manufacturing business in the rural Kansas town of Moundridge in 1958. Its signature product, a compact portable grain dryer, was an innovation in crop harvesting that solidfied the company's position as an agricultural implement manufacturer and propelled it onto the international agricultural scene.
In 1969, Moridge took on full production, distribution and marketing of the Grasshopper zero-turn mower, under the banner The Grasshopper Company. The Grasshopper was invented by a Moundridge-area farmer in 1964, and Moridge assisted him in production of some of the more technical manufacturing aspects until they assumed sole production.
By the 1970s, Grasshopper was a national brand, and by the 1980s, further innovations and improvements elevated The Grasshopper Company as a leader in zero-turn mower market internationally.
Now in its third generation of Guyer family leadership, Grasshopper remains a towering figure in the zero-turn mower industry, pioneering new and improved manufacturing processes to enhance efficiency, longevity, durability and performance of its now signature product, the Grasshopper True ZeroTurn™ mower.
As this year, 2018, marks the 60th anniversary of Moridge Manufacturing, and nearly 50 years of The Grasshopper Company, we will be publishing a series of posts through the duration of 2018 looking back in history, celebrating the success of the company and looking ahead to what the future holds.
You can read more about the 2018 Family Business Award and the Guyers in this article published by the WBJ.