8 Tips To Help Winterize Your Mower
Posted on:Oct 29, 2019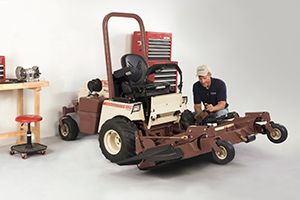 In previous blog posts, we've covered the versatility of Grasshopper mowers through all four seasons, notably winter, when most mowers are stowed away. However, if you plan to winterize your mower, these are the important steps to take at the end of your mowing season.

1. Check the owner's manual. This should always be your first step if you have it available, as it will have more specific information based on your model.
2. Clean under the deck. For best results, wait until a day or more after operating your mower to clean under the deck with water. Hot components can let water past seals, potentially causing internal damage. Use a bristled brush to clear dried-on grass and soil, then let it air dry before storing.
3. Sharpen or replace blades. A sharp blade is essential to achieving a clean cut for your lawn. Examine the blades for dents or damage, then replace or sharpen as necessary. Sharpening is recommended once per eight hours of use, unless you choose LaserEdgeTM blades, which sharpen themselves with every cut.
4. Choose a good winter fuel. Using summer-grade fuels in the winter can cause starting difficulties, so choose a winter-friendly fuel and add a fuel stabilizer, such as STA-BIL, to bulk fuel purchases, or directly into the tank. Allow the engine to run for 10 minutes to make sure the fuel is circulated through the system. If you do not intend to use your mower for winter tasks like snow removal, drain the fuel tank to avoid stale fuel issues when mowing season comes back around.
5. Replace the spark plug. Spark plugs are often overlooked, but should be replaced once per 100 hours of operation, whether it's still working or not.
6. Check your battery. Most zero-turn mowers and commercial tractors have rechargeable batteries, so prior to severe cold temperatures, clean and inspect the battery, cables, terminals, tray and hold-downs. Examine the case for leaks and cracks. You should also be sure to keep the battery fully charged all winter with a Grasshopper Battery MINDer®, which prevents overcharging and self- discharging.
7. Check oil, fuel caps and air filters. Oil should be replaced at regular intervals (check model specifications in your owner's manual) and must change to a winter-grade oil for optimal performance. You should also change the air and fuel filters at the end of your mowing season.
8. Check belts. As winter approaches, it's always a good idea to check drive and deck drive belts for nicked, frayed, slipped or warped belts. Replace any damaged belts with genuine Grasshopper MaxLifeTM OEM belts.
Links referenced:
https://www.greenindustrypros.com/lawn- maintenance/mowing/article/21089373/tips-to-prep-a-lawn-mower-for-winter- storage
https://www.popularmechanics.com/home/lawn-garden/how-to/a24355/how-to- winterize-your-lawn-mower/