Honoring our nation's heroes.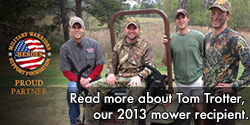 Grasshopper is a proud partner of Military Warriors Support Foundation (MWSF), an organization dedicated to helping wounded veterans and their families as they transition out of the military and into civilian lives.
Through MWSF, Grasshopper donates a commercial-grade True ZeroTurn™ mower to a combat-wounded veteran each year. This year, we provided a new Grasshopper mower to Tom Trotter, a 28-year-old retired Marine from West Melbourne, Fla., who will use the mower to realize his dream of owning and operating a lawn care business.