Ready To Upgrade Your Mower? Here Are 5 Features To Look For
Posted on:Jan 3, 2020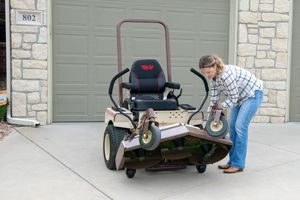 If you mow with Grasshopper, you know your mower is built to last. But if you find yourself ready for a newer model, this list of five must-have features will help make upgrading your mower worth every penny.
Underside Deck Access
Your routine maintenance may feel like a constant chore, but it doesn't have to. With the flip of a switch, Grasshopper's PowerFold® deck gives you access to the underside of your deck, making maintenance and cleaning the easiest part of your day. Available for FrontMount™ mowers.
Comfort Features
Make two hours of mowing feel like 20 minutes. With added comfort features like lumbar support and shock-absorbing footrests, you'll never want to leave the comfort of your mower's seat again. Hollow-tubing and thick-foam padding on your levers dampen vibrations on your hands, plus adjustable levers and seats will help you make your machine truly feel like YOUR machine.
Vacuum Systems
Trying to achieve that showcase finish on your lawn but unsure how to take it to the next level? A high-powered vacuum collection system like the PowerVac™ will ensure an easy sweep through almost anything from tough weeds to dense leaves, bringing you the envy-inducing lawn you've always wanted. And, with rear-mounted collectors, easily empty those pesky clippings without leaving your seat or scarifying your machine's maneuverability.
Durable Build
Getting the perfect cut isn't always a pretty process. Rugged and reliable, Grasshopper mowers are engineered and designed to withstand years of wear and tear. Built with maximum strength in mind, Grasshopper mowers are made with a durable design that includes high-grade steel exoSkeletal™ frames, anvil-edged DuraMax® decks, thick spindles and robust ¼" cutting blades.
LED Lights
Who says mowing is just for the daytime? Mow all day or night with a pair of bright and powerful LED headlights. LED lights are long-lasting and will make late evening and early morning mowing easier and safer.
Keep these five features in mind while on the hunt for your new machine, and make sure you don't settle for standard when upgrading your mower.