Creating An Autumn-Inspired Look For Your Lawn
Posted on:Sep 16, 2019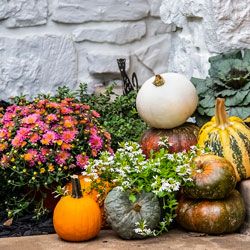 Beginning to feel a crispness in the air? It's our first brush with autumn, and it has us feeling everything fall, from pumpkin spice lattes to football on the weekends. It also has us in the mood for a little decorating, so if you're ready to spruce up your yard with a seasonal look, you're in the right place.
1. Keep mowing as long as you need to. For many, it stays warm through the fall, so keeping your yard groomed will be the first step to creating a clean appearance.
2. Remove leaves with a rake, leaf blower or the PowerVac™ Collection System from Grasshopper. It collects grass clippings, leaves and other yard debris to keep your lawn looking manicured with little to no effort. Learn more about it here.
3. Add a gourd collage. Stack colorful gourds and pumpkins of varying sizes and shapes up in a garden or landscaping area. It adds a pop of color and visual interest, plus the materials can be purchased at your local pumpkin patch or most grocery stores.
4. Consider assembling your collage in a wheelbarrow, but preferably an old, rusty one. Pro-tip: Hay underneath brings the shabby-chic look to the next level.
5. Texture, texture, texture—lush shapes and textures bring your yard to life. Try using a corn stalk as a decoration on your porch or mailbox to help your neighbors feel the spirit of the season. Add in some pumpkins, hay and flowers with fall tones to create a stunning arrangement.
6. Let there be light! Your house will shine day or night when you place spotlights on your best arrangements, giving your entire lawn a warm, inviting glow.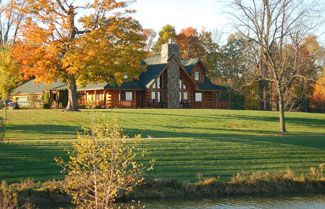 7. If in doubt, stay symmetrical. All of us want a beautiful outdoor space to show off our home, but not all of us feel confident decorating—especially if it's new. But fear not—if you're worried about your lawn looking chaotic or over-the-top, keep it simple and symmetrical. A pot of flowers on either side of the door, a corn stalk on either side of the mailbox, etc. It's the sure and safe way to look tasteful and festive at the same time.
8. If you're a fall-lover, don't be shy. There are seasonal wreaths, lawn flags, scarecrows and decorations galore to fit any budget. Mix and match to achieve a look you'll love all season long.

Some tips drawn from https://www.homedit.com/fall-inspired-front-lawn/