5 Tips To Keep Your Lawn Healthy This Holiday Season
Posted on:Dec 5, 2019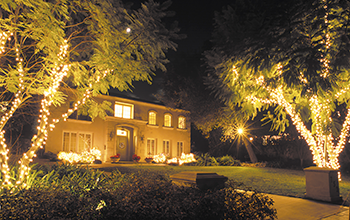 Whether you're a holiday decorator extraordinaire or are more modest with your festive displays, there's one thing you should keep in mind—and it's not your electric bill. Even though it's winter, your lawn is still important to remember when you're putting out your decorations. These helpful tips will help keep your grass healthy throughout this exciting season.
1.
Heavy Christmas decorations can suffocate the grass underneath, leaving an unsightly patch on your lawn come spring. Consider leaving these in flower beds, on a porch or patio, or moving them frequently if they need to be on the grass.
2.
Inflatables and lights are typically lawn-friendly, but if you can use the type that works on a timer, that will prevent damaging foot traffic to turn lights on and off.
3.
Watch out for decorations that require using stakes if you have a sprinkler system. Puncturing it with a stake could cause a costly leak or breakage.
4.
Always check your lights to make sure none are frayed or broken because it could lead to a home or lawn fire. It's also important to make sure you're using decorations and lights that are rated for outdoor use. Lastly, if you want to use candles in your decorating, consider using electric candles that don't pose a fire hazard.
5.
If possible, keep debris out of your yard, such as fallen branches, loose leaves and heavy snow. This can stifle your lawn and cause damage that you could start to notice in the spring.
It's easy to have the winter wonderland yard you've dreamed of while keeping your grass healthy for next spring. Simply follow the tips above and enjoy this festive season with friends and family.