5 Amazing Christmas Light Displays to Inspire Your Home's Holiday Setup
Posted on:Dec 14, 2020
The holidays are a time to reflect, give thanks, and celebrate with family. And there is no better way to honor the spirit of the holiday season than with the age-old tradition of Christmas spectacle. Bring holiday cheer to your family, and your neighborhood, with a light display like no other. However, if you need a little help this year with your setup, here are five undeniably festive displays that are perfect for inspiration.
1. Dyker Heights, New York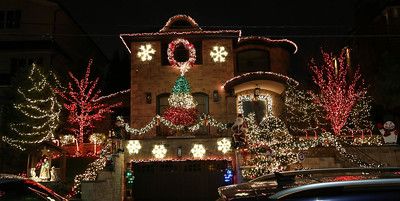 Image Source: Flicker User Richie S
It's hard to stand out in Dyker Heights—a Brooklyn neighborhood famous for its extravagant displays and signature Christmas lights tour, but this home is the perfect example of using your environment to your advantage. Make the most out of your space by stringing up holiday cheer on the trees and trimming alike.
2. Corvallis, Oregon

Image Source: Flicker User Kirt Edblom
Sometimes we just have to embrace our inner Clark Griswold. If you're ready to be the shining Christmas star of your neighborhood take note of this Corvallis home. With holiday colors covering every spare inch of space, they certainly know how to use their lawn to maximum effect capturing everyone's attention in the process. Set your miraculous display to the tune of a Christmas favorite for an even more awe-inspiring experience.
3. Ontario, Canada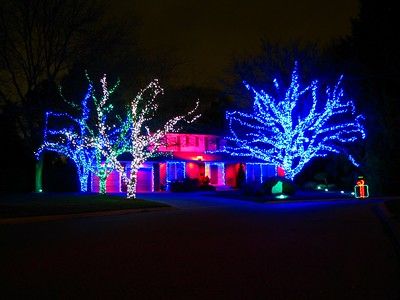 Image Source: Flicker User Michael
Christmas doesn't have to be just red and green—take it from our neighbors up north. This Ontario home makes fantastic use of an unorthodox holiday color scheme and a few Christmas light projectors to show off their holiday spirit.
4. South Pasadena, California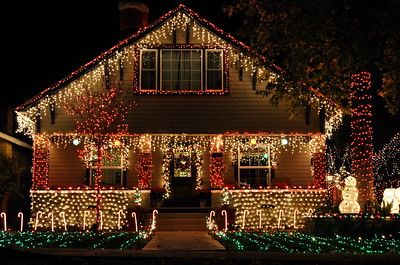 Image Source: Flickr User Marc Flores
Yes, unorthodox colors and lights synced to music are fun but sometimes we just want a classic Christmas setup. If that's the case, look no further than this South Pasadena display. Classic Christmas flair done right, this display understands that symmetry and composition are just as important to the perfect light display as extravagant colors and expensive knickknacks.
5. Houston, Texas

Image Source: Flickr User Rick Kimpel
Simple yet beautiful, this Houston home shows that Christmas spirit isn't measured in the wattage of your display but the thought and care you use to arrange it. Fit with classic, clear LED lights and a handful of yard fixtures, this display is the perfect reminder that sometimes simple is better.
We hope your light display brings plenty of joy this year and we wish you a happy holiday! For more Christmas tips, check out this post for a little insight into the perfect gift you can give your favorite lawn enthusiast.